The AFL's 10 Victorian clubs have been handed funding from the AFL to establish club-branded academies in specified allocated areas in both Victoria and the Northern Territory.
While talented boys have a plethora of options to choose from when it comes to pursuing their AFL dream, the establishment of these club academies will provide the first direct pathway to elite football for young girls.
AFL clubs' new 'Next Generation' Academies will make it possible for girls
to seamlessly reach elite level footy beginning from the age of five.
The plan, which is designed to give youngsters from traditionally non-football backgrounds the chance to play Australian Rules at the highest level, will allow clubs to set up AFL academies for those aged 11-18.
Potentially the most exciting facet of the plan is that these academies will also cater for young girls in addition to the boys.
AFL football operations manager Mark Evans urged the clubs intending to have a team in the women's national competition to ensure girls are part of the academy programs.
The academies will provide the missing link to elite football for young girls following in the footsteps of their Australian Rules idols from a young age, with Auskick available to those aged 5-12.
The Melbourne Demons and Western Bulldogs are already firmly committed to women's teams, and representatives of Hawthorn, Collingwood, Richmond, Geelong, Carlton, St Kilda and Essendon have been vocal about claiming one of the two remaining women's licences for Victorian clubs ahead of the proposed 2017 competition.
The new academies will provide Youth Girls-aged players
with a professional environment to further their abilities.
The AFL is yet to meet with South Australian and West Australian clubs about allocating regions in those states, though Adelaide will surely pursue a female pathway for its academy given the club's commitment to a women's team and its alliance with AFL NT.
The alliance would combine the talent of the two states upon the Crows receiving a licence; however, the Crows have been informed there is no guarantee South Australia will host a side in the competition.
How the alliance would affect the academy allocated areas if Adelaide joins the competition is unknown.
West Coast and Fremantle will battle it out for a licence, with indications pointing towards the Eagles fielding a team in the competition's inaugural season.
The road to the four women's exhibition games played between the Demons and Bulldogs for players thus far has been a matter of slugging away throughout the regular season and attempting to stand out in rare and sporadic draft scouting games.
However, the distinct lack of information regarding each state's top players is startling, consistently leading to top talents, especially young players, being overlooked in the past.
This plan is a great step towards eradicating that problem for the future.
AFL clubs wanting to draft the boys developed in their academy system will have to go through a bidding system; however, the pathway to the elite tier of footy is likely to be much less complicated for girls, given the AFL's reluctance to commit to a yearly women's national draft.
While no details are available of how the system will work for girls just yet, the player development will likely mirror that of the boys, with players being prepared for a talent pathway program beginning at the age of 16.
Although the club academies are unlikely to be in place for a handful of years following the women's national competition's establishment, the next generation of superstar girls will have a direct route to elite footy.
Information as provided by the Australian Football League:
Next generation AFL club academies – Victorian clubs region allocation
Western Bulldogs: Western Melbourne, Wimmera, Mallee, South West Victoria, Ballarat, (North Ballarat Rebels & Western Jets)
Essendon: North West Melbourne (Calder Cannons), West Arnhem (NT)
Melbourne: South East Melbourne (Dandenong Stingrays), Alice Springs (NT)
Collingwood: Central Melbourne (Oakleigh Chargers), Barkly (NT)
St Kilda: Inner Southern Melbourne (Sandringham Dragons), Frankston LGA
North Melbourne: Melbourne and Wyndham LGAs (Calder Cannons & Western Jets)
Hawthorn: Eastern/Whitehorse LGAs (Eastern Ranges), Gippsland (Gippsland Power), Katherine (NT)
Carlton: Northern Melbourne (Northern Knights)
Geelong: Geelong /Hampden (Geelong Falcons), East Arnhem (NT)
Richmond: Goulburn Murray, Bendigo, Sunraysia, North Central (Bendigo Pioneers and Murray Bushrangers)
Victorian allocation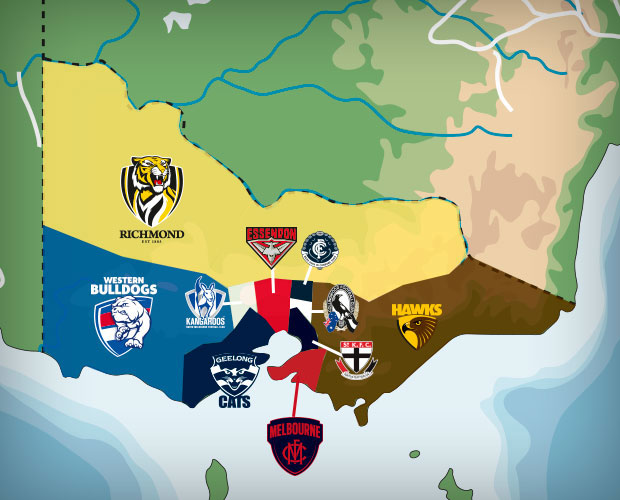 Northern Territory allocation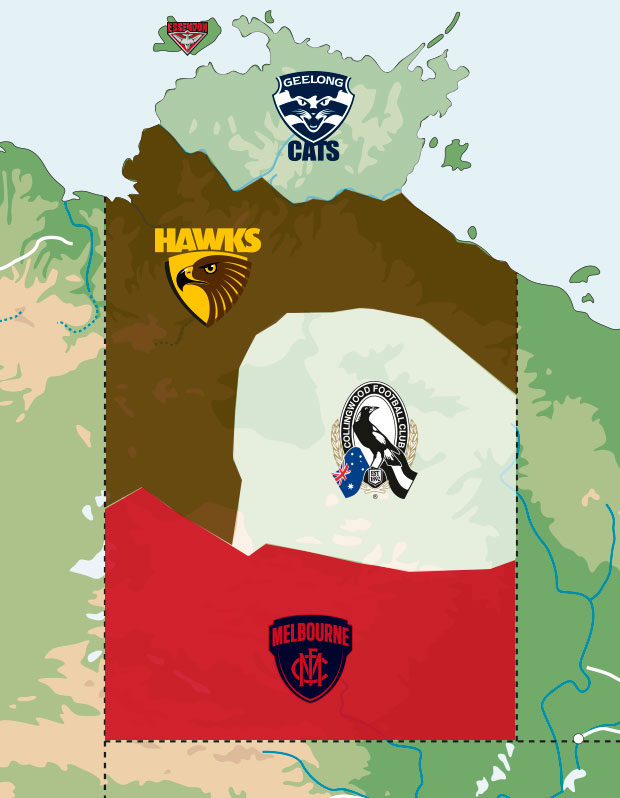 Are you a fan of Girls Play Footy?
Girls Play Footy is an independent media outlet operated by volunteers. If you'd like to help us cover the costs of doing what we do, we hope you'll consider supporting us on Patreon! Becoming a GPF patron gives you access to additional content and some great rewards.
To pledge to support Girls Play Footy on Patreon, follow this link!